A brief history of the flutes and duct tape. Please note that this is a work in progress, and further explanation of any photo would be much appreciated (what exactly is happening in '97?!). Also, I'm still looking for more photos from duct tape escapades.
The original Duct Tape Appreciation Night was, I believe, in 1994. The tubae attacked one of our own, Michelle Tuorto-Collins ('98). "The tubas put me on the goalpost and kissed me." It fits - the tubae have always had a "thing" for flutes.
The next year was similar - same person, new attack. "I ended up taped to my boyfriend (who was then the drum major) and both of us were taped to the ladder." The tradition of taping people to the ladder continues to this day - often it's the drum major and head manager but it varies.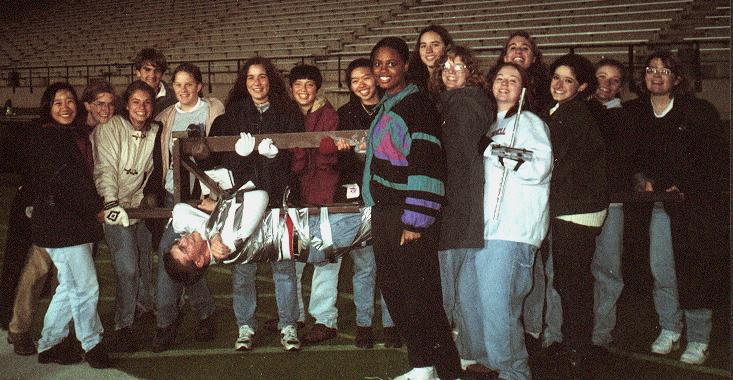 The flutes show Bill Thrasher what happens when we don't get the equipment we request. Duct Tape Appreciation Night '96. To further quote Michelle: "The flutes, as a section, attacked the Equipment Czar the following year and taped him to a bench for not ordering lyres and stuff that we needed. We carried him around like a pig on a spit in triumph. :)"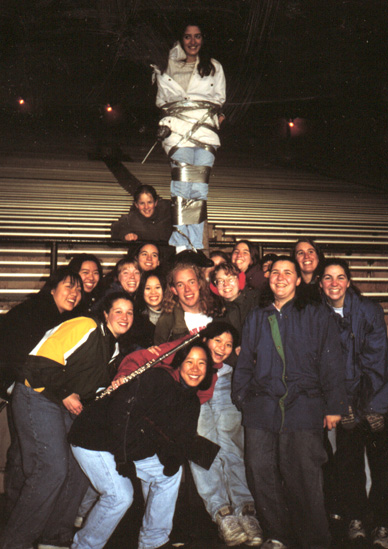 Duct Tape Appreciation Night '97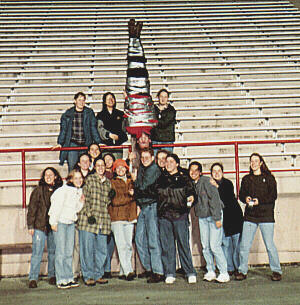 This is what happens to people when they hit on section members a little too often. Duct Tape Appreciation Night '98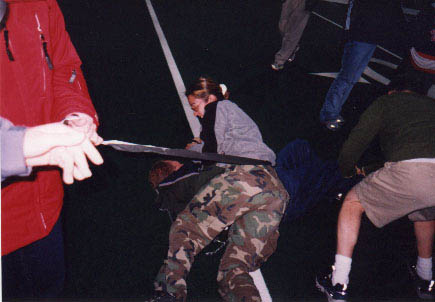 Duct Tape Appreciation Night '01 part 1: Meghan attacks Paul as part one of the plan.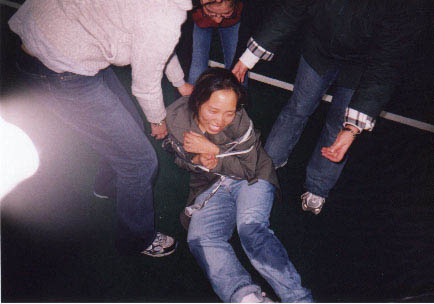 Duct Tape Appreciation Night '01 part 2: The flutes get Tina for part two of the plan to finally get Paul and Tina together. Unfortunately, the flute section learned this year that turning on your own section doesn't work.